Who is Johnny Johnson?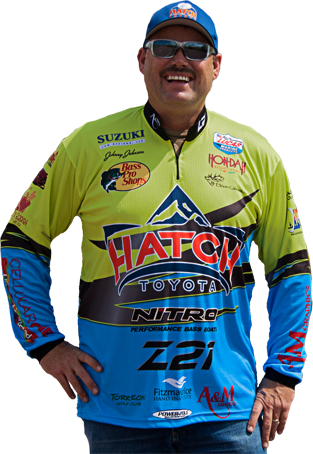 Born in Phoenix AZ. In November of 1968, Johnny's parents thought moving to the White Mountains of Arizona in 1975, where Johnny would go to the Blue Ridge School Dist., would be the best thing for him. Living next to several lakes and having nothing else to do with his time, Johnny started fishing. His love for the sport only grew, so much that he opened his own fishing store ( Johnson's Fishing Tackle) at the age of 18. At age 19 Johnny started entering the local bass club tournaments. His passion for fishing went into a downward spiral when the reality of competitive bass fishing found him failing to rise above last place for the better part of two years.
Competing against more experienced and older fisherman who, for better or worse, seemed to try and discourage him from chasing his dream of making a living at fishing, he packed his rods and headed home. Thinking he had to be in his 40's before he had the experience to win his first tournament, and almost ready to give up, he sat home one Sunday night to watch The Bass Masters on TV. A young man Johnny's age won the tournament, his name, Kevin Vandam! This was the turning point for Johnny. If Kevin Vandam could beat the likes of Larry Nixon and Ricky Clunn, then by-golly Johnny new it was possible for him to win. He did just that, by buying all the 'HOW-TO' tapes he could find and studying relentlessly. His parents ran the fishing store while Johnny spent his time on the water.
Did I mention he was a musician, too? He played music at night for extra money but that's another story...
Anyway, Johnny went on to win in local tournaments, and began to make his name known in state tournaments. Then it happened... In1997 he saw an auction on the local channel and thought it would be cool to show people on the mountain what he's learned. So boom!! Now he has his very own fishing show. Since then, Fishing with Johnny Johnson has become a Sunday morning favorite all over the Southwest (and then some).
Johnny doesn't know the word "quit". He just keeps on truckin'. Johnny's a fun loving guy who acts like every fish catch is his first one. He's always said "Just believe and have faith in yourself, and then there is no end to what you can do".
So how do I know so much about Johnny? Well, we've been friends since we were teenagers, played music together, and heck, he even made me write his theme song, then made me learn how to run the camera to make him look good! I've stuck with him through thick and thin. It's definitely been some kind of experience. The things this guy gets us into, I'll never know.
More about Johnny.
As I said, Johnny is a musician also.... Johnny's dad is a musician and got Johnny started on the drums at a young age. Johnny went from pots and pans, to a full fledged drum set when he was about 8 or 9 years old. His dad, Johnny Johnson Sr., was playing a local club when their drummer failed to make the gig. He recruited a 10 year old Johnny to fill the spot. The little guy turned out to be such a hit that the band decided to keep him on full time. Since then, Johnny's been playing music just about everywhere in the White Mountains and other places until recently hanging it up to make time for his fishing show.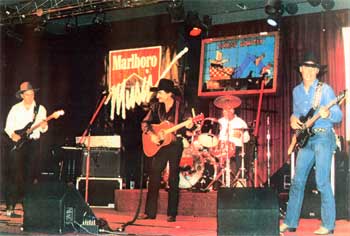 In October 1991, Johnny and I were in a band called The Legacy Band. This is us at The Marlboro Country Music Talent Round-up at Toolies Night Club in Phoenix AZ.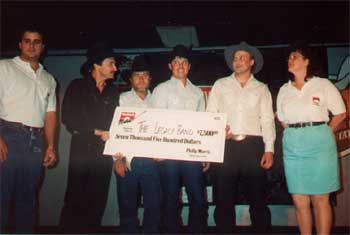 This is us after winning that competition for the Southwest region of the U.S. We won $7500 and a trip to Nashville TN, to compete against 11 other bands from across the nation.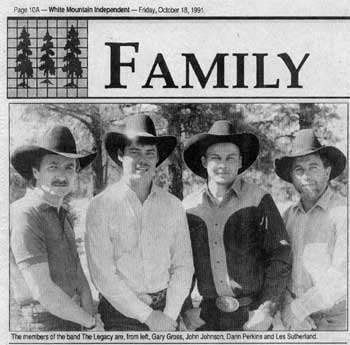 One of many news clippings from our local paper, The White Mountain Independent.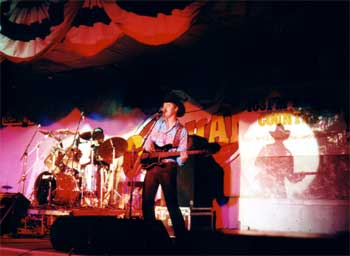 This is Johnny at a concert we opened for Clinton Gregory.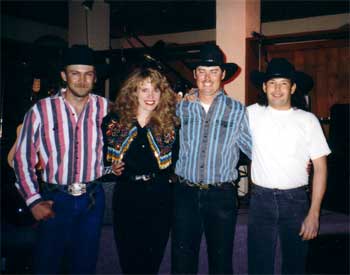 This is the Loose Change Band at Mr. Cz in Pinetop AZ. At left is myself, next is Penny Menze. She has since moved to Nashville and we wish her the best of luck. Next to Penny is, of course, Johnny. Johnny went to playing bass guitar out of necessity and turned out be darn fine at it. On the far right is our drummer and very good friend Manny Verdugo. These days you can catch us at various clubs and parties around the White Mountains.